Light Duty Pallet – 48×48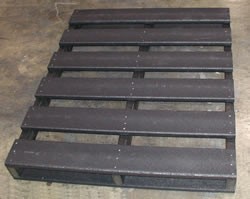 Stackable and reusable 48 x 48  pallet perfect for warehousing, processing, and manufacturing environments. This pallet is made with a proprietary mineral added, recycled HDPE material that will not rot, crack, splinter, scuff, or stain.
Our light duty 48 x 48 pallet is five times stronger than traditional wood, rated above 4,500 static load, and meets all international shipping standards. 
This type of plastic pallet is the leading choice for many agricultural industries and food producers because unlike traditional a traditional treated wood pallet, it is impervious to insects and mold and mildew free. 
Features of our 48x48 Pallets
Benefits of Our Plastic Pallets